Catching Up
Terry fronted several bands after quitting the Fun Boy Three including 'The Colourfield', 'Terry, Blair and Anouchka' and 'Vegas', and has also collaborated with Nick Heywood, Ian Broudie and Sinead O'Connor amongst others. His lyrics are often full of the biting whit and cynicism that we grew to expect after his sharp comments on stage with The Specials.

In the time since the Specials split in 1981, Roddy had been gigging hard with 'The Tearjerkers', 'The Bonediggers' and then 'The Raiders', delivering his own brand of honest ska-billy throughout Europe.

Horace teamed up with former Beat members Dave Wakeling and Ranking Roger to form 'General Public'. They had a lot of success in the US, including a top 40 hit with 'Tenderness', but they eventually disbanded in 1986 having released two albums.

After the demise of the Fun Boy Three, Lynval and Neville briefly collaborated with Pauline Black to form 'Sunday Best' for one single. Neville then moved into management, and solo work, also guesting on several tracks.

Lynval teamed up with Jerry Dammers for a brief spell of DJ'ing in the clubs, and also put a lot of time and effort into Coventry band 'After Tonite'.

After his minor success with JB's Allstars, Brad ventured into production, but by 1992 was keen to get back out playing live and began seeing who else he could recruit.

Horace, Lynval and Neville were also feeling the same, and so along with Ranking Rodger from the Beat, Brad put together 'Special Beat'. They hooked back up with manager Rick Rogers, and proceeded to tour the USA with Sting and Steel Pulse, also Japan and Europe, playing to ecstatic fans wherever they went.


After a couple of years on the road, Special Beat called it a day, and Brad went on to join the newly reformed Selecter with Pauline Black, touring across Europe.

Back in the UK, a project from Trojan Records with Desmond Dekker was to re-unite Lynval, Neville, Horace and this time Roddy too, which resulted in the 1993 release of 'King of Kings'.



The foursome went on to re-launch the Specials in 1994, teaming up with ex-Selecter drummer Aitch Bembridge, Keyboard player Mark Adams and Trombonist Adam Birch. They released 'Today's Specials' to a mixed reception in 1996, but continued to tour widely in the US, Japan and Europe. In true Specials tradition the live shows were an electric experience, and a new generation of ska fans were loving it.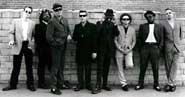 The Specials in 1998 (from left: Mark Adams, Aitch Bembridge, Adam Birch, Roddy Byers, Lynval Golding, Horace Panter, Neville Staple and Jon Read

1998 saw the band in the studio with producer Stoker, with the resulting album 'Guilty' delivering some classic songs, and restoring the bands favour with the press.

A brutal touring schedule took it's toll on the band, having worked almost solidly for 2 years, and in December 1998 they called it a day.

21st Century Specials
Jerry Dammers continues to DJ trip-hop, reggae and ska in the clubs around London. He has finally been released from the concrete slippers of the Chrysalis contract, and has delved into live performance jazz/trance with his Tap inspired 'Jazz Odyssey'.

Terry Hall has continued with his solo career and various collaborations, most recently with Damon Albarn on the 'Gorillaz' track '911'.

Lynval Golding has settled in the USA, working on various projects, such as producing Swedish band 'The Skalatones' album 'Tune In', and occasionally playing live with the likes of the Toasters.

Neville Staple is working hard as ever, touring and recording, now based in California. Read Neville's latest news here or visit his own website

Roddy's latest project is the 'Skabilly Rebels', and has recently released an anthology of his music. He also performs with Ranking Roger and Pauline Black in the 2 Tone Collective. Read Roddy's latest news here

Along with picking up his teaching career, Horace has collaborated with Neol Davis in the thundering blues outfit 'Box of Blues'.

John Bradbury lives in London, and works in the Computer industry.

---

References :


You're Wondering Now - A History of The Specials

by

Paul Williams


ISBN 1 898927 25 1



Conversations with

Neville Staple, Lynval Golding, Roddy Byers & Horace Panter



© TheSpecials.com 2002